| Name of Faculty | Award | Year | Society / Organization |
| --- | --- | --- | --- |
| Dr. H. R. Singh Prof & Head KVK Hapur | Life Time Achivement Award | 2020 | EK NAYI RAH FOUNDATION (ENRF) Etawah (UP), India |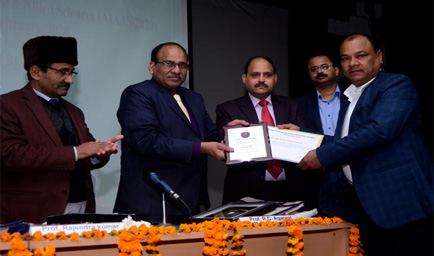 Dr. R. C. Agrawal ADG ICAR Education and Dr. R. Kumar Formal DG UPCAR LKO Awarded Life Time Achivement Award-2020to Dr. H. R. Singh Prof & Head KVK Hapur
31JAN-01 FEB 2020 at J.N.U.Convention Centre, New Delhi,India
OUTSTANDING ACHIEVEMENT AWARD – Life Time Achivement Award-2020 International conference on ADVANCES AND INNOVATIONS IN AGRICULTURE & ALLIED SCIENCES (AIAAS-2020) EK NAYI RAH FOUNDATION(ENRF) during 31JAN-01 FEB 2020 at J.N.U.Convention Centre,New Delhi,India
International Conference on ADVANCES AND INNOVATIONS IN AGRICULTURE & ALLIED SCIENCES (AIAAS-2020) EK NAYI RAH FOUNDATION(ENRF) Etawah (UP),India during 31JAN-01 FEB 2020 at J.N.U.Convention Centre,New Delhi,India
RESEARCH ARTICLE
P. S. Tiwari, Hansraj Singh, Vipin Kumar and Rakesh Tiwari (2019) Enhancement of pulse production through front line demonstrations Agriculture Update Volume 14 | Issue 4 | November, 2019 | 314-318.
Dr. A. K. Mishra,S.K Mishra,Pradeep Mishra and Rakes Tiwari (2019) Economic analysis and crop equivalent of sugarcane (Saccharum officinarum) based intercropping systemin western plain zone of Uttarpradesh.Journal of Eastern Scientist.Vol 2(8)2019 pp:48-58.
Dr. A. K. Mishra, Ravindra kumar,S.K Mishra,Pradeep Mishra and Hamveer singh(2019).Integrated plant nutrient supply and future challenges. Journal of Eastern Scientist.Vol 2(7)2019 pp:14-40.
Dr. A. K. Mishra, R.P Singh,S.K Mishra,Rites Sharma and R.K Singh (2018) Increasing income of Resource- poor farm families through an integrated farming system.Journal of Phrmacognosy and phytochemistry.pp:785-788.
Saty Prakas,Ashok singh,R.K.Nares,Devendra pal and Ashok kumar (2019) Assessment of productivity and soil fertility of Saharanpur in irrigated agro-ecosystem of Western Uttar Pradesh.International journal of chemical studies 2019,7 (6):2225-2227.
B.P.Sahi, A.P.Rao, Ashok kumar and Ravindra Kumar (2019) Effect of peclobutrazol on flowering and fruit yield of mango cv.Dasahari under Saharanpur condition.ISEE National Seminar/2019/ABS/345.